The Online WebTip
Tipsters also have the option of submitting tips online. The process is completely secure and 100% anonymous. This option is a very effective and efficient means of safely communicating with Crime Stoppers in today's world. The Crimes Stoppers WebTip process is powered by the world's leading online tip solution provider, Anderson Software.
The very unique integrated Two-Way Dialog capabilities allow the tipster to return and provide additional information to their tip at any time. It also provides a secure means for the coordinator to ask questions or provide reward information back to the tipster through the same secure and encrypted interface.
The P3 Tips Mobile Application
Tipsters can submit an anonymous crime tip from the tipster's smartphone using the P3 Tips mobile application. As with online tips, mobile tips are also completely secure and 100% anonymous. Once the tip is sent via the app, the tipster will automatically receive a confidential code number so they may add additional information to the original tip if necessary. Using the same Two-Way dialog capabilities of online tip reporting, Crime Stoppers will be able to re-contact tipsters via the same regarding their tips. Tipster can also anonymously upload photos, videos, and audio files with their tips.
The P3 Tips mobile application is available for free on the Apple App Store and Google Play.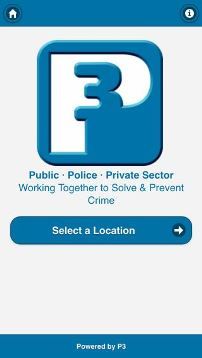 Structure and Funding of Crime Stoppers

Crime Stopper Programs are organized as a not for profit organization (Charity). A civilian community board of directors provides direction as to the financial and promotional activities of the program. The board of directors enhances the community involvement aspect, and its function is vital to the programs success.
The Crime Stoppers program is funded by private donations and fund raising.
NO TAX DOLLARS are involved. The reward money paid out by the program is from the fund raising and donations from concerned citizens and businesses.
A community board of directors, made up of persons from throughout the area, meets on a monthly basis to evaluate arrests and to decide on the size of rewards to be paid, up to $5,000. Rewards are then distributed in a private manner to the callers. Callers are eligible for rewards up to $5,000, but, despite this, many callers choose not to collect their rewards.